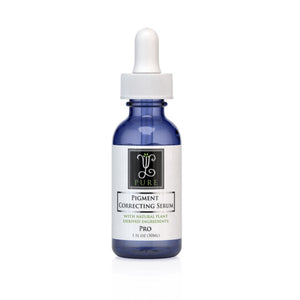 Pigment Correcting Serum
VL Pure Pigment Correcting Serum combines illuminating technology with concentrated ingredients to improve the appearance of uneven skin tone. Suspended in a hydrating serum, these active botanicals brighten the look of uneven pigmentation.
How It Works
The production of melanin is activated by exposure to UVB rays. The enzyme known as tyrosinase is responsible for this production, as it communicates with the melanin production cells, melanocytes, to begin the biosynthesis of the melanin. When these melanocytes overproduce melanin, it results in dark spots and uneven skintone. In addition, once the biosynthesis of melanin has been stimulated, it can take weeks, months, or years before the pigment travels via keratinocytes to reach the surface of the skin. Mulberry Extract, which has been used in Ayurvedic and Chinese medicine for centuries, is known for its ability to help brighten skin's appearance. Saxifrage Extract, which is botanically derived, is a natural source of arbutin. Grape Extract,a potent antioxidant, is also known for its ability to immediately brighten the look of skin.
Key Benefits
• Brightening
• Targets Imperfections
• Diminishes Uneven Tone
Skin Concerns
• Uneven Skin Tone
• Hyperpigmentation