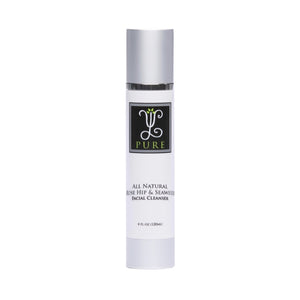 All Natural Rose Hip & Seaweed Facial Cleanser
VL Pure All Natural Rose Hip-Seed and Seaweed Facial Cleanser is professionally formulated to balance the skin's natural pH balance, in a deep wash that lifts dirt and impurities from the skin pores, while delivering all the regenerative benefits of Rose-Hip Seed Oil.
Rich in Vitamin A, C, E and F Rose-Hip oil helps influence collagen growth which helps to reduce wrinkles and restore a firmer, smoother and younger looking appearance.
Seaweed Extract is highly compatible with human plasma and helps promote the outer skin layer with growth and development. This improves the skin's natural barrier function.
*Provides thorough and deep cleansing
*Delivers collagen boosting Vitamin A, C, E and F to the skin
*Helps with the healthy regeneration of skin cells
*Delivers skin nourishing nutrients to maintain healthy skin
*Great for sensitive skin
Directions: Wet face with warm water. Dispense Rose Hip Seed Cleanser into your hand and massage onto your face in a circular motion, working into lather. Rinse thoroughly with warm water. Excellent as a makeup remover. Use daily morning and evening. Follow with VL Pure Moisturizer or Serum.